Curtis' Cuban Mission Trip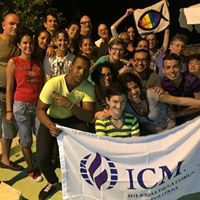 Pastor Curtis will be representing Trinity MCC and other MCCs as a small delegation going to Cuba in May. We have two MCC churches there. Please pray for Pastor Curtis and the others as they travel. If you would like to support Pastor Curtis' travel expenses for this awesome opportunity to see God's work in Cuba and to bring them encouragement and support please mark the portion of your offerings "Mission Trip." If you are giving online there is a drop down menu option for "Mission Trip."
Check out
Curtis' Cuban Mission Trip
page on Facebook!
---
Our Daily Bread

For daily devotionals go to
www.ODB.org
, or download the free app on your smartphone. Both have the option of reading the Bible through in a year.
Prayer Requests

If you will write in the Prayer Book each Sunday, prayers you would like to be made public, they will be mentioned through prayer in our service. For prayers through the week, please send them to
prayer@TrinityMCC.org
or
pastor@TrinityMCC.org
. Let us know if you would like them to be confidential or public. You may also call or text Pastor Curtis at 817-845-2124.
Parking
Just a friendly reminder to leave the parking spaces in front of the church open for visitors.


Food Drive

AIDS Outreach Center's Nutrition Center is always in need of regular size canned goods (fruit, soup, veggies, peanut butter, etc.). Please bring your food donations on the first Sunday of each month.


Ana's Baskets

SafeHaven is continuing to collected cleaning supplies for women who leave the shelter and start new homes. Bring the items (including laundry baskets) to Trinity MCC, for the women and their families. Gift cards are also accepted.


TwoGether In Texas
Did you know Trinity MCC is offering the TwoGether In Texas pre-marriage counseling course to Same-Sex and Straight couples? We currently are the only faith-based group to offer it to same-sex couples. This course saves the couple $60 in marriage licenses fees, and waves the three day waiting period. We offer at it no cost as a ministry of our church. Tell your friends and others to call Pastor Curtis to set up an appointment. 817-845-2124


In case of Inclement Weather
Because of the high priority we place on gathering together as a church family for worship each week, Trinity Metropolitan Community Church has rarely closed due to bad weather. However, if we do have a severe weather conditions on a Sunday morning, please refer to our
Facebook
page or your NBC Channel 5 KXAS local station. You may also call Pastor Curtis at 817-845-2124. Of course, we also want to encourage everyone to make good, safe decisions for yourself and your family!